Love fishing but hate having to hold on to your fishing rod all day? Or hate losing fish because you failed to set the hook properly in time? 
Worry no more! The Smart Fish Catcher will solve your troubles!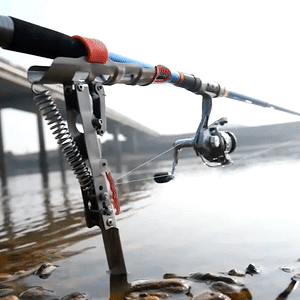 The perfect tool to free your hands and never miss a bite...Made of high quality stainless steel, conviniently fits into most tackle box. It is guaranteed to impress and serve as the perfect companion the next time you go fishing!
HOW IT WORKS ?
It's important to set the hook securely into the fish's mouth when the fish had the bait and started to move off from it. The smart fish catcher strike at this precise moment to ensure the highest possibility of the catch.
MAIN FEATURES
☆ [Superior Material]
The fishing rod holder made of quality stainless steel material with high strength, anti-rust, anti-deformation and durable.
☆ [Automatically Adjust]
When a fish bites the hook, the fishing line swings, the spring automatically triggers your fishing rod, making fishing easier.
Among them, the improved fishing rod holder is super sensitive, the fishing line trigger hook has 4 levels of sensitivity to choose from, with two high and low spring tensions, and different fishing rod lifting forces can be adjusted, making it easy to catch big fish and small fish.
☆ [Built-In Ground Stakes]
The fishing rack has drill pipe structure that can easily be inserted into the cracks of mud, sand, and rocks. It is very strong, and will not rotate. 
☆ [Comfortable Fishing]
When there is no fish bite bait, the fisherman does not have to hold the fishing rod all the time, so he can rest his hands to relieve fatigue or do other things.
☆ [Portable]
Lightweight and portable, use to carry, great for bank fishing, lakes, ponds, river and streams, ideal accessory for travel fishing and fishing lovers.
SPECIFICATIONS
Material: Stainless Steel 
Style: Regular Version - Double Spring,Improved Version - Automatic Bracket
Weight: 366 g /446 g
Package Includes: 1 x Smart Fish Catcher
From the beginning, we have made excellent customer service our top priority. Our customer service team is always ready to answer any questions you have under the guidance of experts, from choosing humorous gifts to gifts with profound meaning. We can't wait to work with you.

You can mail us at [email protected]

CUSTOMER SERVICE HOURS: Mon-Sat / 9 – 21h EST