The products you receive are the same as those shown in the video, so you don't need to worry.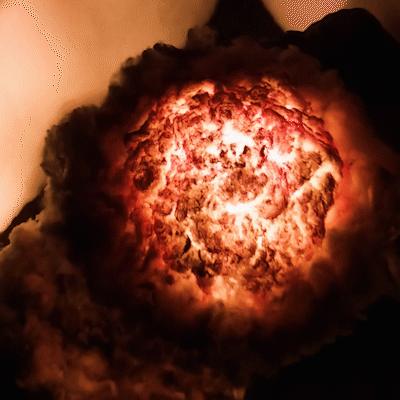 Need a gift? Or just want the coolest nightlight ever?
Get the Nuclear Explosion Mushroom Cloud Lamp on LISORAEL today!
Light up your house with a nuclear explosion! The nuke lamp is a unique tabletop light that is shaped after the explosion seen from a nuclear bomb detonation.
Designed using fluid dynamic simulations to create the shape, this unique lamp will be an instant conversation piece.
It is more a model than a night lamp, Take a good look and you'll see this is really the closest you'll ever want to be to such an intense burst of energy.
FEATURES
✅ Handmade diorama decorative model of a nuclear explosion effect.
✅ Made of metal wire, wood, synthetic and real cotton.

✅ AN EXQUISITE DISPLAY - A piece of decorative lamp that will sure to make the focal point in any space, this lamp is perfect on a tabletop, on the shelves, on a bedside table and more. Makes an excellent home decor piece and is guaranteed to impress anyone who visits.
SPECIFICATIONS
✅ Made of metal wire, wood, synthetic and real cotton.
✅ Airbrush painted
✅ A/C powered with 5W filament LED light
✅ Unique decoration and design. About 30cm diameter and 30-35cm height for a big model (I can make it in any size you want)

PRODUCT INCLUDE
✅ 1 xNuclear Explosion Mushroom Cloud Model Lamp
From the beginning, we have made excellent customer service our top priority. Our customer service team is always ready to answer any questions you have under the guidance of experts, from choosing humorous gifts to gifts with profound meaning. We can't wait to work with you.
Tailai (Hong Kong) E-Commerce Co., Limited
RM4, 16/F, HO KING COMM CTR,
2-16 FAYUEN ST, MONGKOK
KOWLOON
HONG KONG
Telephone Number:+852-68248216
You can mail us at tailaihk@163.com
CUSTOMER SERVICE HOURS: Mon-Sat / 9 – 21h EST